Store Retrieve Images in Firebase Database using Android Studio and Display in RecyclerView, GridView, and Staggered Layout
Table of Contents
What is Firebase Realtime Database?
Firebase is a service to applications, it provides hosting, NoSQL storage, real-time databases, social authentication, notification, and other services.
GridView
GridView is a widget in Android Studio that displays items in a two-dimensional grid. Each item is represented by a View object, which can be a text view, image view, or any other type of view. GridView is often used to display images, but it can be used to display any type of view.
Staggered Layout
Staggered Layout is a type of layout manager in Android Studio that is used to display items in a staggered grid or masonry style layout. Unlike GridView or RecyclerView's GridLayoutManager, Staggered Layout Manager allows for items of different sizes to be displayed in the same row or column, resulting in a more dynamic and visually appealing layout. In a staggered layout, the items are positioned based on their content and not on a fixed column or row. This layout is useful when you want to display items in a grid-like layout, but the items are not of the same size or when you want to create an interesting visual effect. To use Staggered Layout in your Android Studio project, you can create a new StaggeredGridLayoutManager object and set it to your RecyclerView.
Step-by-Step Implementation
Step 1: Open Android Studio, Click New Project and Choose Empty Activity.
Step 2:colors.xml
<?xml version="1.0" encoding="utf-8"?>
<resources>
    <color name="purple_200">#FFBB86FC</color>
    <color name="purple_500">#FF6200EE</color>
    <color name="purple_700">#FF3700B3</color>
    <color name="teal_200">#FF03DAC5</color>
    <color name="teal_700">#FF018786</color>
    <color name="black">#FF000000</color>
    <color name="white">#FFFFFFFF</color>
    <color name="lavender">#8692f7</color>
</resources>
themes.xml
<resources xmlns:tools="http://schemas.android.com/tools">
    <!-- Base application theme. -->
    <style name="Theme.UploadRetrieveImage" parent="Theme.MaterialComponents.DayNight.DarkActionBar">
        <!-- Primary brand color. -->
        <item name="colorPrimary">@color/lavender</item>
        <item name="colorPrimaryVariant">@color/lavender</item>
        <item name="colorOnPrimary">@color/white</item>
        <!-- Secondary brand color. -->
        <item name="colorSecondary">@color/teal_200</item>
        <item name="colorSecondaryVariant">@color/teal_700</item>
        <item name="colorOnSecondary">@color/black</item>
        <!-- Status bar color. -->
        <item name="android:statusBarColor">?attr/colorPrimaryVariant</item>
        <!-- Customize your theme here. -->
    </style>

    <style name="Theme.UploadActivity" parent="Theme.MaterialComponents.DayNight.NoActionBar">
        <!-- Primary brand color. -->
        <item name="colorPrimary">@color/lavender</item>
        <item name="colorPrimaryVariant">@color/lavender</item>
        <item name="colorOnPrimary">@color/white</item>
        <!-- Secondary brand color. -->
        <item name="colorSecondary">@color/teal_200</item>
        <item name="colorSecondaryVariant">@color/teal_700</item>
        <item name="colorOnSecondary">@color/black</item>
        <!-- Status bar color. -->
        <item name="android:statusBarColor">?attr/colorPrimaryVariant</item>
        <!-- Customize your theme here. -->
    </style>
</resources>
lavender_border.xml
<?xml version="1.0" encoding="utf-8"?>
<shape xmlns:android="http://schemas.android.com/apk/res/android"
    android:shape="rectangle">

    <stroke
        android:width="2dp"
        android:color="@color/lavender"/>
    <corners
        android:radius="30dp"/>

</shape>
AndroidManifest.xml
<activity
            android:name=".UploadActivity"
            android:exported="false"
            android:theme="@style/Theme.UploadActivity"/>
Gradle: Module
implementation 'com.github.bumptech.glide:glide:4.14.2'
    annotationProcessor 'com.github.bumptech.glide:compiler:4.14.2'
    implementation 'com.makeramen:roundedimageview:2.3.0'
Upload Images
activity_upload.xml
<?xml version="1.0" encoding="utf-8"?>
<LinearLayout
    xmlns:android="http://schemas.android.com/apk/res/android"
    xmlns:app="http://schemas.android.com/apk/res-auto"
    xmlns:tools="http://schemas.android.com/tools"
    android:layout_width="match_parent"
    android:layout_height="match_parent"
    android:background="@drawable/uploadbkg"
    tools:context=".UploadActivity">

    <LinearLayout
        android:layout_width="match_parent"
        android:layout_height="wrap_content"
        android:orientation="vertical"
        android:background="@drawable/lavender_border"
        android:padding="20dp"
        android:layout_marginStart="15dp"
        android:layout_marginEnd="15dp"
        android:layout_marginTop="230dp">

        <ImageView
            android:layout_width="match_parent"
            android:layout_height="200dp"
            android:src="@drawable/uploadimg"
            android:id="@+id/uploadImage"
            android:layout_marginTop="20dp"
            android:scaleType="fitXY"/>

        <ProgressBar
            android:layout_width="wrap_content"
            android:layout_height="wrap_content"
            android:id="@+id/progressBar"
            android:layout_gravity="center"
            android:indeterminateTint="@color/lavender"
            android:visibility="invisible"/>

        <LinearLayout
            android:layout_width="match_parent"
            android:layout_height="match_parent"
            android:layout_marginTop="200dp"
            android:orientation="horizontal">

            <EditText
                android:layout_width="0dp"
                android:layout_height="60dp"
                android:id="@+id/uploadCaption"
                android:layout_weight="0.6"
                android:background="@drawable/lavender_border"
                android:padding="16dp"
                android:hint="Add a caption..."/>

            <com.google.android.material.floatingactionbutton.FloatingActionButton
                android:layout_width="wrap_content"
                android:layout_height="wrap_content"
                android:id="@+id/uploadButton"
                android:layout_marginStart="10dp"
                android:backgroundTint="@color/lavender"
                android:src="@drawable/baseline_send_24"
                app:tint = "@color/white"/>


        </LinearLayout>

    </LinearLayout>

</LinearLayout>
DataClass.java
package com.example.uploadretrieveimage;

public class DataClass {
    private String imageURL, caption;

    public DataClass(){

    }

    public String getImageURL() {
        return imageURL;
    }

    public void setImageURL(String imageURL) {
        this.imageURL = imageURL;
    }

    public String getCaption() {
        return caption;
    }

    public void setCaption(String caption) {
        this.caption = caption;
    }

    public DataClass(String imageURL, String caption) {
        this.imageURL = imageURL;
        this.caption = caption;
    }
}

UploadActivity.java
package com.example.uploadretrieveimage;

import androidx.activity.result.ActivityResult;
import androidx.activity.result.ActivityResultCallback;
import androidx.activity.result.ActivityResultLauncher;
import androidx.activity.result.contract.ActivityResultContracts;
import androidx.annotation.NonNull;
import androidx.appcompat.app.AppCompatActivity;

import android.app.Activity;
import android.content.ContentResolver;
import android.content.Intent;
import android.net.Uri;
import android.os.Bundle;
import android.view.View;
import android.webkit.MimeTypeMap;
import android.widget.EditText;
import android.widget.ImageView;
import android.widget.ProgressBar;
import android.widget.Toast;

import com.google.android.gms.tasks.OnFailureListener;
import com.google.android.gms.tasks.OnSuccessListener;
import com.google.android.material.floatingactionbutton.FloatingActionButton;
import com.google.firebase.database.DatabaseReference;
import com.google.firebase.database.FirebaseDatabase;
import com.google.firebase.storage.FirebaseStorage;
import com.google.firebase.storage.OnProgressListener;
import com.google.firebase.storage.StorageReference;
import com.google.firebase.storage.UploadTask;

public class UploadActivity extends AppCompatActivity {

    private FloatingActionButton uploadButton;
    private ImageView uploadImage;
    EditText uploadCaption;
    ProgressBar progressBar;
    private Uri imageUri;
    final  private DatabaseReference databaseReference = FirebaseDatabase.getInstance().getReference("Images");
    final private StorageReference storageReference = FirebaseStorage.getInstance().getReference();

    @Override
    protected void onCreate(Bundle savedInstanceState) {
        super.onCreate(savedInstanceState);
        setContentView(R.layout.activity_upload);

        uploadButton = findViewById(R.id.uploadButton);
        uploadCaption = findViewById(R.id.uploadCaption);
        uploadImage = findViewById(R.id.uploadImage);
        progressBar = findViewById(R.id.progressBar);
        progressBar.setVisibility(View.INVISIBLE);

        ActivityResultLauncher<Intent> activityResultLauncher = registerForActivityResult(
                new ActivityResultContracts.StartActivityForResult(),
                new ActivityResultCallback<ActivityResult>() {
                    @Override
                    public void onActivityResult(ActivityResult result) {
                        if (result.getResultCode() == Activity.RESULT_OK){
                            Intent data = result.getData();
                            imageUri = data.getData();
                            uploadImage.setImageURI(imageUri);
                        } else {
                            Toast.makeText(UploadActivity.this, "No Image Selected", Toast.LENGTH_SHORT).show();
                        }
                    }
                }
        );

        uploadImage.setOnClickListener(new View.OnClickListener() {
            @Override
            public void onClick(View view) {
                Intent photoPicker = new Intent();
                photoPicker.setAction(Intent.ACTION_GET_CONTENT);
                photoPicker.setType("image/*");
                activityResultLauncher.launch(photoPicker);
            }
        });

        uploadButton.setOnClickListener(new View.OnClickListener() {
            @Override
            public void onClick(View view) {
                if (imageUri != null){
                    uploadToFirebase(imageUri);
                } else  {
                    Toast.makeText(UploadActivity.this, "Please select image", Toast.LENGTH_SHORT).show();
                }
            }
        });
    }
    //Outside onCreate
    private void uploadToFirebase(Uri uri){
        String caption = uploadCaption.getText().toString();
        final StorageReference imageReference = storageReference.child(System.currentTimeMillis() + "." + getFileExtension(uri));

        imageReference.putFile(uri).addOnSuccessListener(new OnSuccessListener<UploadTask.TaskSnapshot>() {
            @Override
            public void onSuccess(UploadTask.TaskSnapshot taskSnapshot) {
                imageReference.getDownloadUrl().addOnSuccessListener(new OnSuccessListener<Uri>() {
                    @Override
                    public void onSuccess(Uri uri) {
                        DataClass dataClass = new DataClass(uri.toString(), caption);
                        String key = databaseReference.push().getKey();
                        databaseReference.child(key).setValue(dataClass);
                        progressBar.setVisibility(View.INVISIBLE);
                        Toast.makeText(UploadActivity.this, "Uploaded", Toast.LENGTH_SHORT).show();
                        Intent intent = new Intent(UploadActivity.this, MainActivity.class);
                        startActivity(intent);
                        finish();
                    }
                });
            }
        }).addOnProgressListener(new OnProgressListener<UploadTask.TaskSnapshot>() {
            @Override
            public void onProgress(@NonNull UploadTask.TaskSnapshot snapshot) {
                progressBar.setVisibility(View.VISIBLE);
            }
        }).addOnFailureListener(new OnFailureListener() {
            @Override
            public void onFailure(@NonNull Exception e) {
                progressBar.setVisibility(View.INVISIBLE);
                Toast.makeText(UploadActivity.this, "Failed", Toast.LENGTH_SHORT).show();
            }
        });

    }
    private String getFileExtension(Uri fileUri){
        ContentResolver contentResolver = getContentResolver();
        MimeTypeMap mime = MimeTypeMap.getSingleton();
        return mime.getExtensionFromMimeType(contentResolver.getType(fileUri));
    }
}
Retrieve Images – RecyclerView
activity_main.xml
<?xml version="1.0" encoding="utf-8"?>
<RelativeLayout
    xmlns:android="http://schemas.android.com/apk/res/android"
    xmlns:app="http://schemas.android.com/apk/res-auto"
    xmlns:tools="http://schemas.android.com/tools"
    android:layout_width="match_parent"
    android:layout_height="match_parent"
    tools:context=".MainActivity">

    <com.google.android.material.floatingactionbutton.FloatingActionButton
        android:id="@+id/fab"
        android:layout_width="wrap_content"
        android:layout_height="wrap_content"
        android:layout_alignParentBottom="true"
        android:layout_alignParentEnd="true"
        android:layout_margin="40dp"
        android:backgroundTint="@color/lavender"
        app:tint = "@color/white"
        android:src="@drawable/baseline_add_24" />

    <androidx.recyclerview.widget.RecyclerView
        android:id="@+id/recyclerView"
        android:layout_width="match_parent"
        android:layout_height="match_parent" />

</RelativeLayout>
recycler_item.xml
<?xml version="1.0" encoding="utf-8"?>
<LinearLayout
    android:layout_width="match_parent"
    android:layout_height="wrap_content"
    xmlns:app="http://schemas.android.com/apk/res-auto"
    xmlns:android="http://schemas.android.com/apk/res/android"
    android:orientation="vertical">

    <androidx.cardview.widget.CardView
        android:layout_width="match_parent"
        android:layout_height="250dp"
        android:layout_marginStart="20dp"
        android:layout_marginEnd="20dp"
        android:layout_marginTop="20dp"
        app:cardCornerRadius="20dp"
        android:elevation="10dp">

        <ImageView
            android:layout_width="match_parent"
            android:layout_height="match_parent"
            android:id="@+id/recyclerImage"
            android:src="@drawable/uploadimg"
            android:scaleType="centerCrop"/>
    </androidx.cardview.widget.CardView>

    <TextView
        android:layout_width="wrap_content"
        android:layout_height="wrap_content"
        android:text="caption"
        android:textSize="18sp"
        android:layout_marginStart="20dp"
        android:layout_marginEnd="20dp"
        android:layout_marginTop="8dp"
        android:layout_marginBottom="10dp"
        android:textColor="@color/lavender"
        android:id="@+id/recyclerCaption"/>

</LinearLayout>
MyAdapter.java
package com.example.storeretrieveimagepractice;

import android.content.Context;
import android.view.LayoutInflater;
import android.view.View;
import android.view.ViewGroup;
import android.widget.ImageView;
import android.widget.TextView;

import com.bumptech.glide.Glide;

import java.util.ArrayList;

import androidx.annotation.NonNull;
import androidx.recyclerview.widget.RecyclerView;

public class MyAdapter extends RecyclerView.Adapter<MyAdapter.MyViewHolder> {

    private ArrayList<DataClass> dataList;
    private Context context;

    public MyAdapter(Context context, ArrayList<DataClass> dataList) {

        this.context = context;
        this.dataList = dataList;
    }

    @NonNull
    @Override
    public MyViewHolder onCreateViewHolder(@NonNull ViewGroup parent, int viewType) {
        View view = LayoutInflater.from(context).inflate(R.layout.recycler_item, parent, false);
        return new MyViewHolder(view);
    }

    @Override
    public void onBindViewHolder(@NonNull MyViewHolder holder, int position) {
        Glide.with(context).load(dataList.get(position).getImageURL()).into(holder.recyclerImage);
        holder.recyclerCaption.setText(dataList.get(position).getCaption());

    }

    @Override
    public int getItemCount() {
        return dataList.size();
    }

    public static class MyViewHolder extends RecyclerView.ViewHolder {

        ImageView recyclerImage;
        TextView recyclerCaption;

        public MyViewHolder(@NonNull View itemView) {
            super(itemView);
            recyclerImage = itemView.findViewById(R.id.recyclerImage);
            recyclerCaption = itemView.findViewById(R.id.recyclerCaption);
        }
    }
}

MainActivity.java
package com.example.storeretrieveimagepractice;

import androidx.annotation.NonNull;
import androidx.appcompat.app.AppCompatActivity;
import androidx.recyclerview.widget.LinearLayoutManager;
import androidx.recyclerview.widget.RecyclerView;

import android.content.Intent;
import android.os.Bundle;
import android.view.View;

import com.google.android.material.floatingactionbutton.FloatingActionButton;
import com.google.firebase.database.DataSnapshot;
import com.google.firebase.database.DatabaseError;
import com.google.firebase.database.DatabaseReference;
import com.google.firebase.database.FirebaseDatabase;
import com.google.firebase.database.ValueEventListener;

import java.util.ArrayList;

public class MainActivity extends AppCompatActivity {

    FloatingActionButton fab;
    private RecyclerView recyclerView;
    private ArrayList<DataClass> dataList;
    private MyAdapter adapter;
    final private DatabaseReference databaseReference = FirebaseDatabase.getInstance().getReference("Images");

    @Override
    protected void onCreate(Bundle savedInstanceState) {
        super.onCreate(savedInstanceState);
        setContentView(R.layout.activity_main);

        fab = findViewById(R.id.fab);

        recyclerView = findViewById(R.id.recyclerView);
        recyclerView.setHasFixedSize(true);
        recyclerView.setLayoutManager(new LinearLayoutManager(this));
        dataList = new ArrayList<>();
        adapter = new MyAdapter(this, dataList);
        recyclerView.setAdapter(adapter);

        databaseReference.addValueEventListener(new ValueEventListener() {
            @Override
            public void onDataChange(@NonNull DataSnapshot snapshot) {
                for (DataSnapshot dataSnapshot : snapshot.getChildren()) {
                    DataClass dataClass = dataSnapshot.getValue(DataClass.class);
                    dataList.add(dataClass);
                }
                adapter.notifyDataSetChanged();
            }

            @Override
            public void onCancelled(@NonNull DatabaseError error) {

            }
        });

        fab.setOnClickListener(new View.OnClickListener() {
            @Override
            public void onClick(View view) {
                Intent intent = new Intent(MainActivity.this, UploadActivity.class);
                startActivity(intent);
                finish();
            }
        });
    }
}
Retrieve Images – GridView
activity_main.xml
<?xml version="1.0" encoding="utf-8"?>
<RelativeLayout
    xmlns:android="http://schemas.android.com/apk/res/android"
    xmlns:app="http://schemas.android.com/apk/res-auto"
    xmlns:tools="http://schemas.android.com/tools"
    android:layout_width="match_parent"
    android:layout_height="match_parent"
    tools:context=".MainActivity">

    <com.google.android.material.floatingactionbutton.FloatingActionButton
        android:id="@+id/fab"
        android:layout_width="wrap_content"
        android:layout_height="wrap_content"
        android:layout_alignParentBottom="true"
        android:layout_alignParentEnd="true"
        android:layout_margin="40dp"
        android:backgroundTint="@color/lavender"
        app:tint = "@color/white"
        android:src="@drawable/baseline_add_24" />

    <GridView
    android:layout_width="match_parent"
    android:layout_height="match_parent"
    android:id="@+id/gridView"
    android:numColumns="2"/>


</RelativeLayout>
grid_item.xml
<?xml version="1.0" encoding="utf-8"?>
<LinearLayout
    xmlns:android="http://schemas.android.com/apk/res/android"
    xmlns:app="http://schemas.android.com/apk/res-auto"
    android:orientation="vertical"
    android:layout_width="wrap_content"
    android:layout_height="wrap_content"
    android:padding="16dp"
    android:gravity="center">

    <androidx.cardview.widget.CardView
        android:layout_width="150dp"
        android:layout_height="150dp"
        app:cardElevation="10dp"
        app:cardCornerRadius="20dp">

        <ImageView
            android:layout_width="150dp"
            android:layout_height="150dp"
            android:scaleType="centerCrop"
            android:id="@+id/gridImage"/>

    </androidx.cardview.widget.CardView>

    <TextView
        android:layout_width="wrap_content"
        android:layout_height="wrap_content"
        android:id="@+id/gridCaption"
        android:text="Captions"
        android:textSize="20sp"
        android:gravity="center"
        android:textColor="@color/lavender"
        android:layout_marginTop="8dp"/>

</LinearLayout>
MainActivity.java
package com.example.storeretrieveimagepractice;

import androidx.annotation.NonNull;
import androidx.appcompat.app.AppCompatActivity;

import android.content.Intent;
import android.os.Bundle;
import android.view.View;
import android.widget.GridView;

import com.google.android.material.floatingactionbutton.FloatingActionButton;
import com.google.firebase.database.DataSnapshot;
import com.google.firebase.database.DatabaseError;
import com.google.firebase.database.DatabaseReference;
import com.google.firebase.database.FirebaseDatabase;
import com.google.firebase.database.ValueEventListener;

import java.util.ArrayList;

public class MainActivity extends AppCompatActivity {

    FloatingActionButton fab;
    private GridView gridView;
    private ArrayList<DataClass> dataList;
    private MyAdapter adapter;
    final private DatabaseReference databaseReference = FirebaseDatabase.getInstance().getReference("Images");

    @Override
    protected void onCreate(Bundle savedInstanceState) {
        super.onCreate(savedInstanceState);
        setContentView(R.layout.activity_main);

        fab = findViewById(R.id.fab);

        gridView = findViewById(R.id.gridView);
        dataList = new ArrayList<>();
        adapter = new MyAdapter(this, dataList);
        gridView.setAdapter(adapter);

        databaseReference.addValueEventListener(new ValueEventListener() {
            @Override
            public void onDataChange(@NonNull DataSnapshot snapshot) {
                for (DataSnapshot dataSnapshot : snapshot.getChildren()) {
                    DataClass dataClass = dataSnapshot.getValue(DataClass.class);
                    dataList.add(dataClass);
                }
                adapter.notifyDataSetChanged();
            }

            @Override
            public void onCancelled(@NonNull DatabaseError error) {

            }
        });

        fab.setOnClickListener(new View.OnClickListener() {
            @Override
            public void onClick(View view) {
                Intent intent = new Intent(MainActivity.this, UploadActivity.class);
                startActivity(intent);
                finish();
            }
        });
    }
}
MyAdapter.java
package com.example.storeretrieveimagepractice;

import android.content.Context;
import android.view.LayoutInflater;
import android.view.View;
import android.view.ViewGroup;
import android.widget.BaseAdapter;
import android.widget.ImageView;
import android.widget.TextView;

import com.bumptech.glide.Glide;

import java.util.ArrayList;

public class MyAdapter extends BaseAdapter {

    private ArrayList<DataClass> dataList;
    private Context context;
    LayoutInflater layoutInflater;

    public MyAdapter(Context context, ArrayList<DataClass> dataList) {
        this.context = context;
        this.dataList = dataList;
    }

    @Override
    public int getCount() {
        return dataList.size();
    }

    @Override
    public Object getItem(int i) {
        return null;
    }

    @Override
    public long getItemId(int i) {
        return 0;
    }

    @Override
    public View getView(int i, View view, ViewGroup viewGroup) {
        if (layoutInflater == null){
            layoutInflater = (LayoutInflater) context.getSystemService(Context.LAYOUT_INFLATER_SERVICE);
        }
        if (view == null){
            view = layoutInflater.inflate(R.layout.grid_item, null);
        }

        ImageView gridImage = view.findViewById(R.id.gridImage);
        TextView gridCaption = view.findViewById(R.id.gridCaption);


        Glide.with(context).load(dataList.get(i).getImageURL()).into(gridImage);
        gridCaption.setText(dataList.get(i).getCaption());

        return view;
    }
}
Retrieve Images – Staggered Layout
activity_main.xml
<?xml version="1.0" encoding="utf-8"?>
<RelativeLayout
    xmlns:android="http://schemas.android.com/apk/res/android"
    xmlns:app="http://schemas.android.com/apk/res-auto"
    xmlns:tools="http://schemas.android.com/tools"
    android:layout_width="match_parent"
    android:layout_height="match_parent"
    tools:context=".MainActivity">

    <com.google.android.material.floatingactionbutton.FloatingActionButton
        android:layout_width="wrap_content"
        android:layout_height="wrap_content"
        android:id="@+id/fab"
        android:layout_alignParentBottom="true"
        android:layout_alignParentEnd="true"
        android:layout_margin="40dp"
        android:backgroundTint="@color/lavender"
        android:src="@drawable/baseline_add_24"
        app:tint = "@color/white"/>

    <androidx.recyclerview.widget.RecyclerView
        android:layout_width="match_parent"
        android:layout_height="match_parent"
        android:id="@+id/recyclerView"
        android:paddingStart="0dp"
        android:paddingEnd="15dp"
        android:paddingBottom="15dp"/>

</RelativeLayout>
staggere_item.xml
<?xml version="1.0" encoding="utf-8"?>
<com.makeramen.roundedimageview.RoundedImageView
    xmlns:android="http://schemas.android.com/apk/res/android"
    xmlns:app="http://schemas.android.com/apk/res-auto"
    android:layout_width="match_parent"
    android:layout_height="wrap_content"
    android:id="@+id/staggeredImages"
    android:layout_marginStart="15dp"
    android:layout_marginTop="15dp"
    app:riv_corner_radius="12dp"
    android:adjustViewBounds="true"/>


MainActivity.java
package com.example.uploadretrieveimage;

import androidx.annotation.NonNull;
import androidx.appcompat.app.AppCompatActivity;
import androidx.recyclerview.widget.LinearLayoutManager;
import androidx.recyclerview.widget.RecyclerView;
import androidx.recyclerview.widget.StaggeredGridLayoutManager;

import android.content.Intent;
import android.os.Bundle;
import android.view.View;
import android.widget.GridView;

import com.google.android.material.floatingactionbutton.FloatingActionButton;
import com.google.firebase.database.DataSnapshot;
import com.google.firebase.database.DatabaseError;
import com.google.firebase.database.DatabaseReference;
import com.google.firebase.database.FirebaseDatabase;
import com.google.firebase.database.ValueEventListener;

import java.util.ArrayList;

public class MainActivity extends AppCompatActivity {

    RecyclerView recyclerView;
    ArrayList<DataClass> dataList;
    MyAdapter adapter;
    final private DatabaseReference databaseReference = FirebaseDatabase.getInstance().getReference("Images");
    FloatingActionButton fab;

    @Override
    protected void onCreate(Bundle savedInstanceState) {
        super.onCreate(savedInstanceState);
        setContentView(R.layout.activity_main);

        fab = findViewById(R.id.fab);
        recyclerView = findViewById(R.id.recyclerView);

        recyclerView.setHasFixedSize(true);
        recyclerView.setLayoutManager(new StaggeredGridLayoutManager(2, StaggeredGridLayoutManager.VERTICAL));
        dataList = new ArrayList<>();
        adapter = new MyAdapter(dataList, this);
        recyclerView.setAdapter(adapter);

        databaseReference.addValueEventListener(new ValueEventListener() {
            @Override
            public void onDataChange(@NonNull DataSnapshot snapshot) {
                for (DataSnapshot dataSnapshot: snapshot.getChildren()){
                    DataClass dataClass = dataSnapshot.getValue(DataClass.class);
                    dataList.add(dataClass);
                }
                adapter.notifyDataSetChanged();
            }

            @Override
            public void onCancelled(@NonNull DatabaseError error) {

            }
        });

        fab.setOnClickListener(new View.OnClickListener() {
            @Override
            public void onClick(View view) {
                Intent intent = new Intent(MainActivity.this, UploadActivity.class);
                startActivity(intent);
                finish();
            }
        });
    }
}
MyAdapter.java
package com.example.uploadretrieveimage;

import android.content.Context;
import android.view.LayoutInflater;
import android.view.View;
import android.view.ViewGroup;

import com.bumptech.glide.Glide;
import com.makeramen.roundedimageview.RoundedImageView;

import java.util.ArrayList;

import androidx.annotation.NonNull;
import androidx.recyclerview.widget.RecyclerView;

public class MyAdapter extends RecyclerView.Adapter<MyAdapter.MyViewHolder> {

    ArrayList<DataClass> dataList;
    Context context;

    public MyAdapter(ArrayList<DataClass> dataList, Context context) {
        this.dataList = dataList;
        this.context = context;
    }

    @NonNull
    @Override
    public MyViewHolder onCreateViewHolder(@NonNull ViewGroup parent, int viewType) {
        View view = LayoutInflater.from(parent.getContext()).inflate(R.layout.staggered_item, parent, false);
        return new MyViewHolder(view);
    }

    @Override
    public void onBindViewHolder(@NonNull MyViewHolder holder, int position) {
        Glide.with(context).load(dataList.get(position).getImageURL()).into(holder.staggeredImages);
    }

    @Override
    public int getItemCount() {
        return dataList.size();
    }

    public class MyViewHolder extends RecyclerView.ViewHolder{

        RoundedImageView staggeredImages;

        public MyViewHolder(@NonNull View itemView) {
            super(itemView);
            staggeredImages = itemView.findViewById(R.id.staggeredImages);
        }
    }
}

Output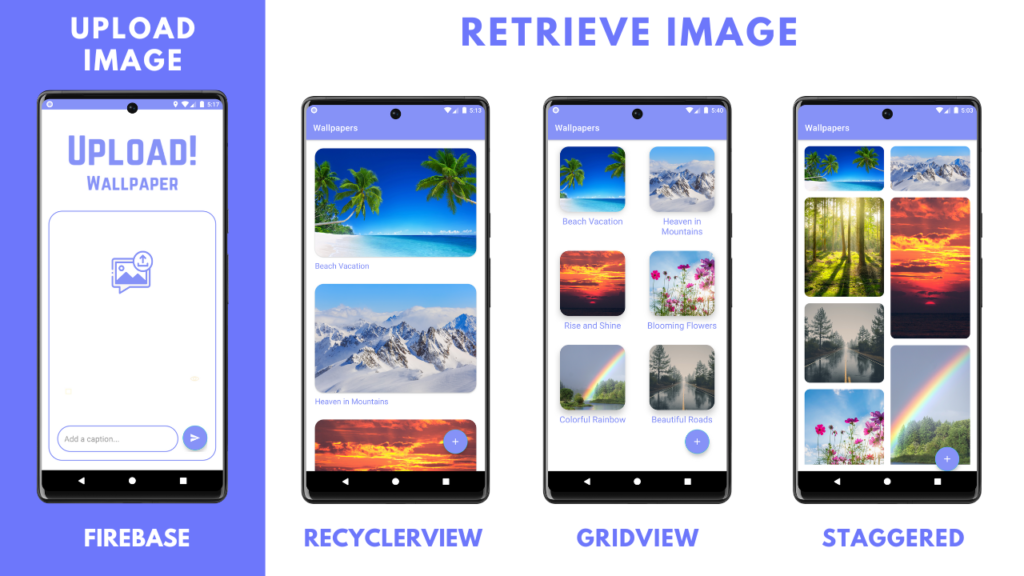 AK Bonus Points
If you have any queries or errors, please feel free to comment below 🙂
For detailed steps, watch our youtube videos:
Stepwise Videos:
Step 1: Upload Image in Firebase Database in Android Studio using Java | Part 1
https://youtu.be/VH_KyGf8Xno
Step 2: Retrieve Image from Firebase Database in Android Studio using Java and Display in RecyclerView | Part 2
https://youtu.be/2qrtuojcFhw
OR
Step2.1: Retrieve Image from Firebase Database and Display in GridView in Android Studio using Java
https://youtu.be/nHzOSXZuwfQ
OR
Step 2.2: Retrieve Image from Firebase Database and Display in Staggered Layout in Android Studio using Java
https://youtu.be/GxjFdOVRrv4
For more articles, click here