Store Retrieve Data in Firebase Realtime Database using Android Studio – Easy 9 Steps!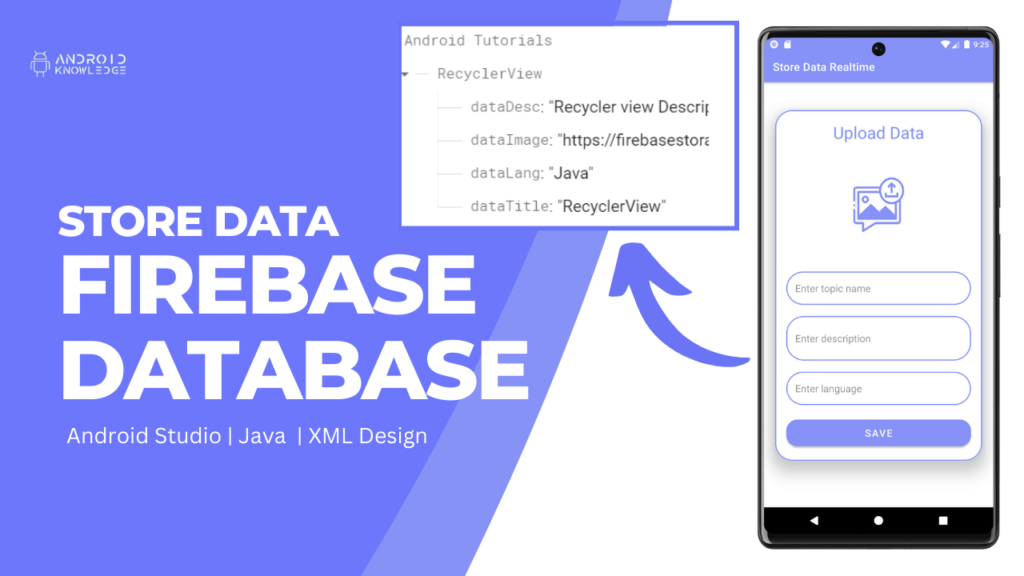 Table of Contents
Download Drawables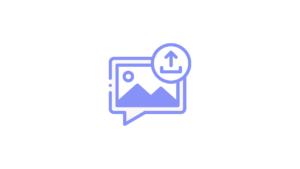 What is Firebase Realtime Database?
Firebase is a service to applications, it provides hosting, NoSQL storage, real-time databases, social authentication, notification, and other services.
In this project, we have created a login and signup page in android studio using firebase realtime database so all our data will be saved for free! When the user signs up using a username and password gets stored in the realtime database of firebase.
For login purposes, the same credentials are checked in the firebase realtime database and if it matches with user credentials then it will lead you to the home screen otherwise it will throw an error as login failed.
Step-by-Step Implementation
Step 1: Open Android Studio, Click New Project and Choose Empty Activity.
Step 2:colors.xml
<?xml version="1.0" encoding="utf-8"?>
<resources>
    <color name="purple_200">#FFBB86FC</color>
    <color name="purple_500">#FF6200EE</color>
    <color name="purple_700">#FF3700B3</color>
    <color name="teal_200">#FF03DAC5</color>
    <color name="teal_700">#FF018786</color>
    <color name="black">#FF000000</color>
    <color name="white">#FFFFFFFF</color>
    <color name="lavender">#8692f7</color>
    <color name="red">#c70000</color>
    <color name="green">#00ff00</color>

</resources>
themes.xml
<resources xmlns:tools="http://schemas.android.com/tools">
    <!-- Base application theme. -->
    <style name="Theme.StoreDataRealtime" parent="Theme.MaterialComponents.DayNight.DarkActionBar">
        <!-- Primary brand color. -->
        <item name="colorPrimary">@color/lavender</item>
        <item name="colorPrimaryVariant">@color/lavender</item>
        <item name="colorOnPrimary">@color/white</item>
        <!-- Secondary brand color. -->
        <item name="colorSecondary">@color/teal_200</item>
        <item name="colorSecondaryVariant">@color/teal_700</item>
        <item name="colorOnSecondary">@color/black</item>
        <!-- Status bar color. -->
        <item name="android:statusBarColor">?attr/colorPrimaryVariant</item>
        <!-- Customize your theme here. -->
    </style>

    <style name="roundedImageViewRounded">
        <item name="cornerFamily">rounded</item>
        <item name="cornerSize">50%</item>
    </style>

</resources>
lavender_border.xml
<?xml version="1.0" encoding="utf-8"?>
<shape xmlns:android="http://schemas.android.com/apk/res/android"
    android:shape="rectangle">

    <stroke
        android:width="2dp"
        android:color="@color/lavender"/>
    <corners
        android:radius="30dp"/>

</shape>
AndroidManifest.xml
    <uses-permission android:name="android.permission.READ_EXTERNAL_STORAGE" />

Gradle: Project
repositories {
        google()
        mavenCentral()
    }
Gradle: Module
implementation 'com.github.bumptech.glide:glide:4.14.2'
annotationProcessor 'com.github.bumptech.glide:compiler:4.14.2'
    implementation 'com.github.clans:fab:1.6.4'

Step 3: progress_layout.xml
<?xml version="1.0" encoding="utf-8"?>
<LinearLayout xmlns:android="http://schemas.android.com/apk/res/android"
    android:orientation="horizontal"
    android:padding="20dp"
    android:layout_width="match_parent"
    android:layout_height="wrap_content">

    <ProgressBar
        android:layout_width="0dp"
        android:layout_height="wrap_content"
        android:layout_weight="1"
        android:indeterminateTint="@color/lavender"/>

    <TextView
        android:layout_width="0dp"
        android:layout_height="match_parent"
        android:layout_weight="4"
        android:text="Loading..."
        android:textSize="18sp"
        android:textColor="@color/lavender"
        android:gravity="start|center_vertical"/>

</LinearLayout>
recycler_item.xml
<?xml version="1.0" encoding="utf-8"?>
<androidx.cardview.widget.CardView xmlns:android="http://schemas.android.com/apk/res/android"
    android:layout_width="match_parent"
    android:layout_height="wrap_content"
    xmlns:app="http://schemas.android.com/apk/res-auto"
    android:id="@+id/recCard"
    android:layout_marginStart="12dp"
    android:layout_marginEnd="12dp"
    android:layout_marginHorizontal="10dp"
    android:layout_marginVertical="10dp"
    app:cardCornerRadius="20dp"
    app:cardElevation="8dp">

    <RelativeLayout
        android:layout_width="match_parent"
        android:layout_height="wrap_content">

        <com.google.android.material.imageview.ShapeableImageView
            android:layout_width="60dp"
            android:layout_height="60dp"
            android:id="@+id/recImage"
            android:src="@drawable/uploadimg"
            android:layout_marginStart="10dp"
            android:layout_marginBottom="10dp"
            android:layout_marginTop="10dp"
            android:scaleType="centerCrop"
            app:shapeAppearanceOverlay="@style/roundedImageViewRounded"/>

        <TextView
            android:layout_width="120dp"
            android:layout_height="30dp"
            android:id="@+id/recTitle"
            android:text="Title"
            android:textColor="@color/lavender"
            android:textSize="20sp"
            android:layout_marginTop="20dp"
            android:layout_marginStart="20dp"
            android:layout_toEndOf="@id/recImage"/>

        <TextView
            android:layout_width="80dp"
            android:layout_height="30dp"
            android:id="@+id/recPriority"
            android:text="priority"
            android:layout_toEndOf="@id/recTitle"
            android:layout_marginTop="20dp"
            android:layout_marginStart="90dp"
            android:textAlignment="center"
            android:textColor="@color/lavender"
            android:textSize="16sp"/>

        <TextView
            android:layout_width="140dp"
            android:layout_height="wrap_content"
            android:id="@+id/recDesc"
            android:text="desc"
            android:textColor="@color/lavender"
            android:textSize="14sp"
            android:layout_toEndOf="@id/recImage"
            android:layout_below="@id/recTitle"
            android:layout_marginStart="20dp"
            android:maxLines="1"
            android:layout_marginBottom="12dp"/>

    </RelativeLayout>

</androidx.cardview.widget.CardView>
activity_main.xml
<?xml version="1.0" encoding="utf-8"?>
<RelativeLayout
    xmlns:android="http://schemas.android.com/apk/res/android"
    xmlns:app="http://schemas.android.com/apk/res-auto"
    xmlns:tools="http://schemas.android.com/tools"
    android:layout_width="match_parent"
    android:layout_height="match_parent"
    tools:context=".MainActivity">

    <androidx.appcompat.widget.SearchView
        android:layout_width="match_parent"
        android:layout_height="wrap_content"
        android:layout_marginTop="16dp"
        android:layout_marginStart="12dp"
        android:layout_marginEnd="12dp"
        android:id="@+id/search"
        app:iconifiedByDefault="false"
        app:searchHintIcon="@null"
        app:queryHint="Search..."
        android:focusable="false"
        app:closeIcon="@drawable/ic_baseline_clear_24"
        app:searchIcon="@drawable/ic_baseline_search_24"
        android:background="@drawable/lavender_border"/>

    <androidx.recyclerview.widget.RecyclerView
        android:layout_marginTop="10dp"
        android:layout_below="@id/search"
        android:layout_width="match_parent"
        android:layout_height="match_parent"
        android:id="@+id/recyclerView"
        android:scrollbars="vertical"/>

    <com.google.android.material.floatingactionbutton.FloatingActionButton
        android:id="@+id/fab"
        android:layout_width="wrap_content"
        android:layout_height="wrap_content"
        android:layout_alignParentBottom="true"
        android:layout_alignParentRight="true"
        android:layout_margin="40dp"
        android:backgroundTint="@color/lavender"
        app:tint = "@color/white"
        android:src="@drawable/ic_baseline_add_24" />

</RelativeLayout>
activity_upload.xml
<?xml version="1.0" encoding="utf-8"?>
<ScrollView
    xmlns:android="http://schemas.android.com/apk/res/android"
    xmlns:app="http://schemas.android.com/apk/res-auto"
    xmlns:tools="http://schemas.android.com/tools"
    android:layout_width="match_parent"
    android:layout_height="match_parent"
    android:orientation="vertical"
    tools:context=".UploadActivity">

    <androidx.cardview.widget.CardView
        android:layout_width="match_parent"
        android:layout_height="wrap_content"
        android:layout_marginTop="50dp"
        android:layout_marginEnd="20dp"
        android:layout_marginStart="20dp"
        app:cardCornerRadius="30dp"
        app:cardElevation="20dp">

        <LinearLayout
            android:layout_width="match_parent"
            android:layout_height="wrap_content"
            android:orientation="vertical"
            android:layout_gravity="center_horizontal"
            android:padding="20dp"
            android:background="@drawable/lavender_border">

            <TextView
                android:layout_width="match_parent"
                android:layout_height="wrap_content"
                android:text="Upload Data"
                android:textSize="30sp"
                android:textAlignment="center"
                android:textColor="@color/lavender"/>

            <ImageView
                android:layout_width="match_parent"
                android:layout_height="200dp"
                android:src="@drawable/uploadimg"
                android:id="@+id/uploadImage"
                android:layout_marginTop="10dp"
                android:scaleType="fitXY"/>

            <EditText
                android:layout_width="match_parent"
                android:layout_height="60dp"
                android:id="@+id/uploadTopic"
                android:background="@drawable/lavender_border"
                android:layout_marginTop="20dp"
                android:padding="16dp"
                android:hint="Enter topic name"
                android:gravity="start|center_vertical"
                android:textColor="@color/lavender"/>

            <EditText
                android:layout_width="match_parent"
                android:layout_height="80dp"
                android:id="@+id/uploadDesc"
                android:background="@drawable/lavender_border"
                android:layout_marginTop="20dp"
                android:padding="16dp"
                android:hint="Enter description"
                android:gravity="start|center_vertical"
                android:textColor="@color/lavender"/>

            <EditText
                android:layout_width="match_parent"
                android:layout_height="60dp"
                android:id="@+id/uploadLang"
                android:background="@drawable/lavender_border"
                android:layout_marginTop="20dp"
                android:padding="16dp"
                android:hint="Enter language"
                android:gravity="start|center_vertical"
                android:textColor="@color/lavender"/>

            <Button
                android:layout_width="match_parent"
                android:layout_height="60dp"
                android:text="Save"
                android:id="@+id/saveButton"
                android:textSize="18sp"
                android:layout_marginTop="20dp"
                app:cornerRadius = "20dp"/>

        </LinearLayout>

    </androidx.cardview.widget.CardView>

</ScrollView>
activity_detail.xml
<?xml version="1.0" encoding="utf-8"?>
<LinearLayout
    xmlns:android="http://schemas.android.com/apk/res/android"
    xmlns:app="http://schemas.android.com/apk/res-auto"
    xmlns:tools="http://schemas.android.com/tools"
    android:layout_width="match_parent"
    android:layout_height="match_parent"
    android:orientation="vertical"
    tools:context=".DetailActivity">

    <TextView
        android:layout_width="wrap_content"
        android:layout_height="wrap_content"
        android:id="@+id/detailTitle"
        android:text="Title"
        android:layout_marginTop="14dp"
        android:textSize="24sp"
        android:layout_gravity="center"
        android:layout_marginBottom="12dp"
        android:textColor="@color/lavender"/>

    <ImageView
        android:layout_width="400dp"
        android:layout_height="200dp"
        android:id="@+id/detailImage"
        android:padding="8dp"
        android:layout_gravity="center"
        android:src="@drawable/uploadimg"
        android:scaleType="fitXY"/>

    <TextView
        android:layout_width="match_parent"
        android:layout_height="wrap_content"
        android:layout_marginTop="10dp"
        android:padding="20dp"
        android:text="Language"
        android:layout_gravity="center"
        android:id="@+id/detailLang"
        android:textSize="18sp"
        android:textColor="@color/lavender"/>

    <TextView
        android:layout_width="match_parent"
        android:layout_height="wrap_content"
        android:layout_marginTop="10dp"
        android:padding="20dp"
        android:text="Description"
        android:layout_gravity="center"
        android:id="@+id/detailDesc"
        android:textSize="18sp"
        android:textColor="@color/lavender"/>

    <RelativeLayout
        android:layout_width="match_parent"
        android:layout_height="match_parent">

        <com.github.clans.fab.FloatingActionMenu
            android:layout_width="wrap_content"
            android:layout_height="wrap_content"
            android:layout_alignParentBottom="true"
            android:layout_alignParentEnd="true"
            app:menu_fab_size="normal"
            android:layout_marginBottom="20dp"
            android:layout_marginEnd="20dp"
            app:menu_colorPressed="@color/lavender"
            app:menu_colorNormal="@color/lavender"
            app:menu_icon="@drawable/ic_baseline_format_list_bulleted_24"
            app:menu_openDirection="up"
            app:menu_showShadow="true">

            <com.github.clans.fab.FloatingActionButton
                android:layout_width="wrap_content"
                android:layout_height="wrap_content"
                android:id="@+id/editButton"
                android:src="@drawable/ic_baseline_edit_24"
                app:fab_showShadow="true"
                app:fab_colorNormal="@color/green"
                app:fab_size="mini"/>

            <com.github.clans.fab.FloatingActionButton
                android:layout_width="wrap_content"
                android:layout_height="wrap_content"
                android:id="@+id/deleteButton"
                android:src="@drawable/ic_baseline_delete_24"
                app:fab_showShadow="true"
                app:fab_colorNormal="@color/red"
                app:fab_size="mini"/>

        </com.github.clans.fab.FloatingActionMenu>

    </RelativeLayout>

</LinearLayout>
activity_update.xml
<?xml version="1.0" encoding="utf-8"?>
<ScrollView
    xmlns:android="http://schemas.android.com/apk/res/android"
    xmlns:app="http://schemas.android.com/apk/res-auto"
    xmlns:tools="http://schemas.android.com/tools"
    android:layout_width="match_parent"
    android:layout_height="match_parent"
    android:orientation="vertical"
    tools:context=".UpdateActivity">

    <androidx.cardview.widget.CardView
        android:layout_width="match_parent"
        android:layout_height="wrap_content"
        android:layout_marginTop="50dp"
        android:layout_marginEnd="20dp"
        android:layout_marginStart="20dp"
        app:cardCornerRadius="30dp"
        app:cardElevation="20dp">

        <LinearLayout
            android:layout_width="match_parent"
            android:layout_height="wrap_content"
            android:orientation="vertical"
            android:layout_gravity="center_horizontal"
            android:padding="20dp"
            android:background="@drawable/lavender_border">

            <TextView
                android:layout_width="match_parent"
                android:layout_height="wrap_content"
                android:text="Update Data"
                android:textSize="30sp"
                android:textAlignment="center"
                android:textColor="@color/lavender"/>

            <ImageView
                android:layout_width="match_parent"
                android:layout_height="200dp"
                android:src="@drawable/uploadimg"
                android:id="@+id/updateImage"
                android:layout_marginTop="10dp"
                android:scaleType="fitXY"/>

            <EditText
                android:layout_width="match_parent"
                android:layout_height="60dp"
                android:id="@+id/updateTitle"
                android:background="@drawable/lavender_border"
                android:layout_marginTop="20dp"
                android:padding="16dp"
                android:hint="Enter topic name"
                android:gravity="start|center_vertical"
                android:textColor="@color/lavender"/>

            <EditText
                android:layout_width="match_parent"
                android:layout_height="80dp"
                android:id="@+id/updateDesc"
                android:background="@drawable/lavender_border"
                android:layout_marginTop="20dp"
                android:padding="16dp"
                android:hint="Enter description"
                android:gravity="start|center_vertical"
                android:textColor="@color/lavender"/>

            <EditText
                android:layout_width="match_parent"
                android:layout_height="60dp"
                android:id="@+id/updateLang"
                android:background="@drawable/lavender_border"
                android:layout_marginTop="20dp"
                android:padding="16dp"
                android:hint="Enter language"
                android:gravity="start|center_vertical"
                android:textColor="@color/lavender"/>

            <Button
                android:layout_width="match_parent"
                android:layout_height="60dp"
                android:text="Update"
                android:id="@+id/updateButton"
                android:textSize="18sp"
                android:layout_marginTop="20dp"
                app:cornerRadius = "20dp"/>

        </LinearLayout>

    </androidx.cardview.widget.CardView>

</ScrollView>
Step 4: MainActivity.java
package com.example.storedatapractice;

import androidx.annotation.NonNull;
import androidx.appcompat.app.AlertDialog;
import androidx.appcompat.app.AppCompatActivity;
import androidx.appcompat.widget.SearchView;
import androidx.recyclerview.widget.GridLayoutManager;
import androidx.recyclerview.widget.RecyclerView;

import android.content.Intent;
import android.os.Bundle;
import android.view.View;

import com.google.android.material.floatingactionbutton.FloatingActionButton;
import com.google.firebase.database.DataSnapshot;
import com.google.firebase.database.DatabaseError;
import com.google.firebase.database.DatabaseReference;
import com.google.firebase.database.FirebaseDatabase;
import com.google.firebase.database.ValueEventListener;

import java.util.ArrayList;
import java.util.List;

public class MainActivity extends AppCompatActivity {
    FloatingActionButton fab;
    DatabaseReference databaseReference;
    ValueEventListener eventListener;
    RecyclerView recyclerView;
    List<DataClass> dataList;
    MyAdapter adapter;
    SearchView searchView;

    @Override
    protected void onCreate(Bundle savedInstanceState) {
        super.onCreate(savedInstanceState);
        setContentView(R.layout.activity_main);

        recyclerView = findViewById(R.id.recyclerView);
        fab = findViewById(R.id.fab);
        searchView = findViewById(R.id.search);
        searchView.clearFocus();

        GridLayoutManager gridLayoutManager = new GridLayoutManager(MainActivity.this, 1);
        recyclerView.setLayoutManager(gridLayoutManager);

        AlertDialog.Builder builder = new AlertDialog.Builder(MainActivity.this);
        builder.setCancelable(false);
        builder.setView(R.layout.progress_layout);
        AlertDialog dialog = builder.create();
        dialog.show();

        dataList = new ArrayList<>();

        adapter = new MyAdapter(MainActivity.this, dataList);
        recyclerView.setAdapter(adapter);

        databaseReference = FirebaseDatabase.getInstance().getReference("Android Tutorials");
        dialog.show();
        eventListener = databaseReference.addValueEventListener(new ValueEventListener() {
            @Override
            public void onDataChange(@NonNull DataSnapshot snapshot) {
                dataList.clear();
                for (DataSnapshot itemSnapshot: snapshot.getChildren()){
                    DataClass dataClass = itemSnapshot.getValue(DataClass.class);

                    dataClass.setKey(itemSnapshot.getKey());

                    dataList.add(dataClass);
                }
                adapter.notifyDataSetChanged();
                dialog.dismiss();
            }

            @Override
            public void onCancelled(@NonNull DatabaseError error) {
                dialog.dismiss();
            }
        });

        searchView.setOnQueryTextListener(new SearchView.OnQueryTextListener() {
            @Override
            public boolean onQueryTextSubmit(String query) {
                return false;
            }

            @Override
            public boolean onQueryTextChange(String newText) {
                searchList(newText);
                return true;
            }
        });

        fab.setOnClickListener(new View.OnClickListener() {
            @Override
            public void onClick(View view) {
                Intent intent = new Intent(MainActivity.this, UploadActivity.class);
                startActivity(intent);
            }
        });

    }
    public void searchList(String text){
        ArrayList<DataClass> searchList = new ArrayList<>();
        for (DataClass dataClass: dataList){
            if (dataClass.getDataTitle().toLowerCase().contains(text.toLowerCase())){
                searchList.add(dataClass);
            }
        }
        adapter.searchDataList(searchList);
    }
}
Step 5: DataClass.java
package com.example.storedatapractice;


public class DataClass {

    private String dataTitle;
    private String dataDesc;
    private String dataLang;
    private String dataImage;
    private String key;

    public String getKey() {
        return key;
    }

    public void setKey(String key) {
        this.key = key;
    }

    public String getDataTitle() {
        return dataTitle;
    }

    public String getDataDesc() {
        return dataDesc;
    }

    public String getDataLang() {
        return dataLang;
    }

    public String getDataImage() {
        return dataImage;
    }

    public DataClass(String dataTitle, String dataDesc, String dataLang, String dataImage) {
        this.dataTitle = dataTitle;
        this.dataDesc = dataDesc;
        this.dataLang = dataLang;
        this.dataImage = dataImage;
    }
    public DataClass(){

    }
}

Step 6: UploadActivity.java
package com.example.storedatarealtime;

import androidx.activity.result.ActivityResult;
import androidx.activity.result.ActivityResultCallback;
import androidx.activity.result.ActivityResultLauncher;
import androidx.activity.result.contract.ActivityResultContracts;
import androidx.annotation.NonNull;
import androidx.appcompat.app.AppCompatActivity;

import android.app.Activity;
import android.app.AlertDialog;
import android.content.Intent;
import android.net.Uri;
import android.os.Bundle;
import android.view.View;
import android.widget.Button;
import android.widget.EditText;
import android.widget.ImageView;
import android.widget.Toast;

import com.google.android.gms.tasks.OnCompleteListener;
import com.google.android.gms.tasks.OnFailureListener;
import com.google.android.gms.tasks.OnSuccessListener;
import com.google.android.gms.tasks.Task;
import com.google.firebase.database.FirebaseDatabase;
import com.google.firebase.storage.FirebaseStorage;
import com.google.firebase.storage.StorageReference;
import com.google.firebase.storage.UploadTask;

import java.text.DateFormat;
import java.util.Calendar;

public class UploadActivity extends AppCompatActivity {

    ImageView uploadImage;
    Button saveButton;
    EditText uploadTopic, uploadDesc, uploadLang;
    String imageURL;
    Uri uri;

    @Override
    protected void onCreate(Bundle savedInstanceState) {
        super.onCreate(savedInstanceState);
        setContentView(R.layout.activity_upload);

        uploadImage = findViewById(R.id.uploadImage);
        uploadDesc = findViewById(R.id.uploadDesc);
        uploadTopic = findViewById(R.id.uploadTopic);
        uploadLang = findViewById(R.id.uploadLang);
        saveButton = findViewById(R.id.saveButton);

        ActivityResultLauncher<Intent> activityResultLauncher = registerForActivityResult(
                new ActivityResultContracts.StartActivityForResult(),
                new ActivityResultCallback<ActivityResult>() {
                    @Override
                    public void onActivityResult(ActivityResult result) {
                        if (result.getResultCode() == Activity.RESULT_OK){
                            Intent data = result.getData();
                            uri = data.getData();
                            uploadImage.setImageURI(uri);
                        } else {
                            Toast.makeText(UploadActivity.this, "No Image Selected", Toast.LENGTH_SHORT).show();
                        }
                    }
                }
        );

        uploadImage.setOnClickListener(new View.OnClickListener() {
            @Override
            public void onClick(View view) {
                Intent photoPicker = new Intent(Intent.ACTION_PICK);
                photoPicker.setType("image/*");
                activityResultLauncher.launch(photoPicker);
            }
        });

        saveButton.setOnClickListener(new View.OnClickListener() {
            @Override
            public void onClick(View view) {
                saveData();
            }
        });
    }

    public void saveData(){

        StorageReference storageReference = FirebaseStorage.getInstance().getReference().child("Android Images")
                .child(uri.getLastPathSegment());

        AlertDialog.Builder builder = new AlertDialog.Builder(UploadActivity.this);
        builder.setCancelable(false);
        builder.setView(R.layout.progress_layout);
        AlertDialog dialog = builder.create();
        dialog.show();

        storageReference.putFile(uri).addOnSuccessListener(new OnSuccessListener<UploadTask.TaskSnapshot>() {
            @Override
            public void onSuccess(UploadTask.TaskSnapshot taskSnapshot) {

                Task<Uri> uriTask = taskSnapshot.getStorage().getDownloadUrl();
                while (!uriTask.isComplete());
                Uri urlImage = uriTask.getResult();
                imageURL = urlImage.toString();
                uploadData();
                dialog.dismiss();
            }
        }).addOnFailureListener(new OnFailureListener() {
            @Override
            public void onFailure(@NonNull Exception e) {
                dialog.dismiss();
            }
        });
    }

    public void uploadData(){

        String title = uploadTopic.getText().toString();
        String desc = uploadDesc.getText().toString();
        String lang = uploadLang.getText().toString();

        DataClass dataClass = new DataClass(title, desc, lang, imageURL);

        //We are changing the child from title to currentDate,
        // because we will be updating title as well and it may affect child value.

        String currentDate = DateFormat.getDateTimeInstance().format(Calendar.getInstance().getTime());

        FirebaseDatabase.getInstance().getReference("Android Tutorials").child(currentDate)
                .setValue(dataClass).addOnCompleteListener(new OnCompleteListener<Void>() {
                    @Override
                    public void onComplete(@NonNull Task<Void> task) {
                        if (task.isSuccessful()){
                            Toast.makeText(UploadActivity.this, "Saved", Toast.LENGTH_SHORT).show();
                            finish();
                        }
                    }
                }).addOnFailureListener(new OnFailureListener() {
                    @Override
                    public void onFailure(@NonNull Exception e) {
                        Toast.makeText(UploadActivity.this, e.getMessage().toString(), Toast.LENGTH_SHORT).show();
                    }
                });
    }
}
Step 7: MyAdapter.java
package com.example.storedatarealtime;

import android.content.Context;
import android.content.Intent;
import android.view.LayoutInflater;
import android.view.View;
import android.view.ViewGroup;
import android.widget.ImageView;
import android.widget.TextView;

import com.bumptech.glide.Glide;

import java.util.ArrayList;
import java.util.List;

import androidx.annotation.NonNull;
import androidx.cardview.widget.CardView;
import androidx.recyclerview.widget.RecyclerView;

public class MyAdapter extends RecyclerView.Adapter<MyViewHolder> {

    private Context context;
    private List<DataClass> dataList;

    public MyAdapter(Context context, List<DataClass> dataList) {
        this.context = context;
        this.dataList = dataList;
    }

    @NonNull
    @Override
    public MyViewHolder onCreateViewHolder(@NonNull ViewGroup parent, int viewType) {
        View view = LayoutInflater.from(parent.getContext()).inflate(R.layout.recycler_item, parent, false);
        return new MyViewHolder(view);
    }

    @Override
    public void onBindViewHolder(@NonNull MyViewHolder holder, int position) {
        Glide.with(context).load(dataList.get(position).getDataImage()).into(holder.recImage);
        holder.recTitle.setText(dataList.get(position).getDataTitle());
        holder.recDesc.setText(dataList.get(position).getDataDesc());
        holder.recLang.setText(dataList.get(position).getDataLang());

        holder.recCard.setOnClickListener(new View.OnClickListener() {
            @Override
            public void onClick(View view) {
                Intent intent = new Intent(context, DetailActivity.class);
                intent.putExtra("Image", dataList.get(holder.getAdapterPosition()).getDataImage());
                intent.putExtra("Description", dataList.get(holder.getAdapterPosition()).getDataDesc());
                intent.putExtra("Title", dataList.get(holder.getAdapterPosition()).getDataTitle());
                intent.putExtra("Key",dataList.get(holder.getAdapterPosition()).getKey());
                intent.putExtra("Language", dataList.get(holder.getAdapterPosition()).getDataLang());
                context.startActivity(intent);
            }
        });
    }

    @Override
    public int getItemCount() {
        return dataList.size();
    }

    public void searchDataList(ArrayList<DataClass> searchList){
        dataList = searchList;
        notifyDataSetChanged();
    }
}

class MyViewHolder extends RecyclerView.ViewHolder{

    ImageView recImage;
    TextView recTitle, recDesc, recLang;
    CardView recCard;

    public MyViewHolder(@NonNull View itemView) {
        super(itemView);

        recImage = itemView.findViewById(R.id.recImage);
        recCard = itemView.findViewById(R.id.recCard);
        recDesc = itemView.findViewById(R.id.recDesc);
        recLang = itemView.findViewById(R.id.recLang);
        recTitle = itemView.findViewById(R.id.recTitle);
    }
}

Step 8: DetailActivity.java
package com.example.storedatarealtime;

import androidx.appcompat.app.AppCompatActivity;

import android.content.Intent;
import android.os.Bundle;
import android.view.View;
import android.widget.ImageView;
import android.widget.TextView;
import android.widget.Toast;

import com.bumptech.glide.Glide;
import com.github.clans.fab.FloatingActionButton;
import com.google.android.gms.tasks.OnSuccessListener;
import com.google.firebase.database.DatabaseReference;
import com.google.firebase.database.FirebaseDatabase;
import com.google.firebase.storage.FirebaseStorage;
import com.google.firebase.storage.StorageReference;

public class DetailActivity extends AppCompatActivity {

    TextView detailDesc, detailTitle, detailLang;
    ImageView detailImage;
    FloatingActionButton deleteButton, editButton;
    String key = "";
    String imageUrl = "";

    @Override
    protected void onCreate(Bundle savedInstanceState) {
        super.onCreate(savedInstanceState);
        setContentView(R.layout.activity_detail);

        detailDesc = findViewById(R.id.detailDesc);
        detailImage = findViewById(R.id.detailImage);
        detailTitle = findViewById(R.id.detailTitle);
        deleteButton = findViewById(R.id.deleteButton);
        editButton = findViewById(R.id.editButton);
        detailLang = findViewById(R.id.detailLang);

        Bundle bundle = getIntent().getExtras();
        if (bundle != null){
            detailDesc.setText(bundle.getString("Description"));
            detailTitle.setText(bundle.getString("Title"));
            detailLang.setText(bundle.getString("Language"));
            key = bundle.getString("Key");
            imageUrl = bundle.getString("Image");
            Glide.with(this).load(bundle.getString("Image")).into(detailImage);
        }
        deleteButton.setOnClickListener(new View.OnClickListener() {
            @Override
            public void onClick(View view) {
                final DatabaseReference reference = FirebaseDatabase.getInstance().getReference("Android Tutorials");
                FirebaseStorage storage = FirebaseStorage.getInstance();

                StorageReference storageReference = storage.getReferenceFromUrl(imageUrl);
                storageReference.delete().addOnSuccessListener(new OnSuccessListener<Void>() {
                    @Override
                    public void onSuccess(Void unused) {
                        reference.child(key).removeValue();
                        Toast.makeText(DetailActivity.this, "Deleted", Toast.LENGTH_SHORT).show();
                        startActivity(new Intent(getApplicationContext(), MainActivity.class));
                        finish();
                    }
                });
            }
        });
        editButton.setOnClickListener(new View.OnClickListener() {
            @Override
            public void onClick(View view) {
                Intent intent = new Intent(DetailActivity.this, UpdateActivity.class)
                        .putExtra("Title", detailTitle.getText().toString())
                        .putExtra("Description", detailDesc.getText().toString())
                        .putExtra("Language", detailLang.getText().toString())
                        .putExtra("Image", imageUrl)
                        .putExtra("Key", key);
                startActivity(intent);
            }
        });
    }
}
Step 9: UpdateActivity.java
package com.example.storedatarealtime;

import androidx.activity.result.ActivityResult;
import androidx.activity.result.ActivityResultCallback;
import androidx.activity.result.ActivityResultLauncher;
import androidx.activity.result.contract.ActivityResultContracts;
import androidx.annotation.NonNull;
import androidx.appcompat.app.AlertDialog;
import androidx.appcompat.app.AppCompatActivity;

import android.app.Activity;
import android.content.Intent;
import android.net.Uri;
import android.os.Bundle;
import android.view.View;
import android.widget.Button;
import android.widget.EditText;
import android.widget.ImageView;
import android.widget.Toast;

import com.bumptech.glide.Glide;
import com.google.android.gms.tasks.OnCompleteListener;
import com.google.android.gms.tasks.OnFailureListener;
import com.google.android.gms.tasks.OnSuccessListener;
import com.google.android.gms.tasks.Task;
import com.google.firebase.database.DatabaseReference;
import com.google.firebase.database.FirebaseDatabase;
import com.google.firebase.storage.FirebaseStorage;
import com.google.firebase.storage.StorageReference;
import com.google.firebase.storage.UploadTask;

public class UpdateActivity extends AppCompatActivity {

    ImageView updateImage;
    Button updateButton;
    EditText updateDesc, updateTitle, updateLang;
    String title, desc, lang;
    String imageUrl;
    String key, oldImageURL;
    Uri uri;
    DatabaseReference databaseReference;
    StorageReference storageReference;

    @Override
    protected void onCreate(Bundle savedInstanceState) {
        super.onCreate(savedInstanceState);
        setContentView(R.layout.activity_update);

        updateButton = findViewById(R.id.updateButton);
        updateDesc = findViewById(R.id.updateDesc);
        updateImage = findViewById(R.id.updateImage);
        updateLang = findViewById(R.id.updateLang);
        updateTitle = findViewById(R.id.updateTitle);

        ActivityResultLauncher<Intent> activityResultLauncher = registerForActivityResult(
                new ActivityResultContracts.StartActivityForResult(),
                new ActivityResultCallback<ActivityResult>() {
                    @Override
                    public void onActivityResult(ActivityResult result) {
                        if (result.getResultCode() == Activity.RESULT_OK){
                            Intent data = result.getData();
                            uri = data.getData();
                            updateImage.setImageURI(uri);
                        } else {
                            Toast.makeText(UpdateActivity.this, "No Image Selected", Toast.LENGTH_SHORT).show();
                        }
                    }
                }
        );
        Bundle bundle = getIntent().getExtras();
        if (bundle != null){
            Glide.with(UpdateActivity.this).load(bundle.getString("Image")).into(updateImage);
            updateTitle.setText(bundle.getString("Title"));
            updateDesc.setText(bundle.getString("Description"));
            updateLang.setText(bundle.getString("Language"));
            key = bundle.getString("Key");
            oldImageURL = bundle.getString("Image");
        }
        databaseReference = FirebaseDatabase.getInstance().getReference("Android Tutorials").child(key);

        updateImage.setOnClickListener(new View.OnClickListener() {
            @Override
            public void onClick(View view) {
                Intent photoPicker = new Intent(Intent.ACTION_PICK);
                photoPicker.setType("image/*");
                activityResultLauncher.launch(photoPicker);
            }
        });
        updateButton.setOnClickListener(new View.OnClickListener() {
            @Override
            public void onClick(View view) {
                saveData();
                Intent intent = new Intent(UpdateActivity.this, MainActivity.class);
                startActivity(intent);
            }
        });
    }
    public void saveData(){
        storageReference = FirebaseStorage.getInstance().getReference().child("Android Images").child(uri.getLastPathSegment());

        AlertDialog.Builder builder = new AlertDialog.Builder(UpdateActivity.this);
        builder.setCancelable(false);
        builder.setView(R.layout.progress_layout);
        AlertDialog dialog = builder.create();
        dialog.show();

        storageReference.putFile(uri).addOnSuccessListener(new OnSuccessListener<UploadTask.TaskSnapshot>() {
            @Override
            public void onSuccess(UploadTask.TaskSnapshot taskSnapshot) {
                Task<Uri> uriTask = taskSnapshot.getStorage().getDownloadUrl();
                while (!uriTask.isComplete());
                Uri urlImage = uriTask.getResult();
                imageUrl = urlImage.toString();
                updateData();
                dialog.dismiss();
            }
        }).addOnFailureListener(new OnFailureListener() {
            @Override
            public void onFailure(@NonNull Exception e) {
                dialog.dismiss();
            }
        });
    }
    public void updateData(){
        title = updateTitle.getText().toString().trim();
        desc = updateDesc.getText().toString().trim();
        lang = updateLang.getText().toString();

        DataClass dataClass = new DataClass(title, desc, lang, imageUrl);

        databaseReference.setValue(dataClass).addOnCompleteListener(new OnCompleteListener<Void>() {
            @Override
            public void onComplete(@NonNull Task<Void> task) {
                if (task.isSuccessful()){
                    StorageReference reference = FirebaseStorage.getInstance().getReferenceFromUrl(oldImageURL);
                    reference.delete();
                    Toast.makeText(UpdateActivity.this, "Updated", Toast.LENGTH_SHORT).show();
                    finish();
                }
            }
        }).addOnFailureListener(new OnFailureListener() {
            @Override
            public void onFailure(@NonNull Exception e) {
                Toast.makeText(UpdateActivity.this, e.getMessage().toString(), Toast.LENGTH_SHORT).show();
            }
        });
    }
}
Output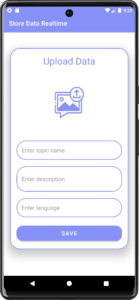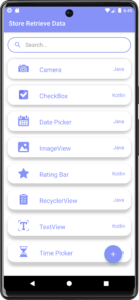 AK Bonus Points
If you have any queries or errors, please feel free to comment below 🙂
For detailed steps, watch our youtube video: Store Data in Firebase Realtime Database in Android Studio
Retrieve Firebase Data in Profile YT Video: How to Retrieve Data from Firebase Database and Display in Profile Activity – Android Studio
Check our similar post here: Login and Signup using Firebase Authentication in Android Studio